Arsenal Girls Kicks Programme back on the pitch after lockdown

Arsenal in the Community has been running the national Kicks Programmes (run by 92 professional football clubs across the UK) since 2006, with the aim of keeping young people away from anti-social behaviour, drugs, and crime.
In 2019 the team secured additional funding from the London Marathon Charitable Trust and Islington Giving to extend their Girls programme, in collaboration with Brandon Centre and other community organisations, with the aim of engaging females between the ages of 8 and 17.
We spoke to Osiro Imoedemhe, Brandon Centre's Sports Psychologist on the programme, Jack Ironside, Senior Manager for Social Inclusion at Arsenal in the Community, and Pavlos Rossolymos, Brandon Centre's Head of Mental Health, about launching the new initiative during lockdown, and how it's playing an important part in improving local girls' lives.
Q: How did the Girls Kicks programme come about?
Jack: "There's quite a lot of research that shows that a particular set of issues stop girls from taking part in sport, particularly in their teenage years. These include body changes, puberty, and increased levels of anxiety. We found that there didn't seem to be many sports-based interventions in the community which aimed to tackle all those issues together.
There are so many factors that contribute to a young person making positive changes. So we were keen to build relationships and develop partnerships with experts, like Brandon Centre, that would help us build a programme that tackles those issues in a meaningful way.
We officially launched in February 2021. Some of Arsenal's top women's players and around 100 girls joined us at the Arsenal Hub, which is the home of Arsenal in the Community, next to the Emirates.
But then lockdown hit, and we had to re-think everything."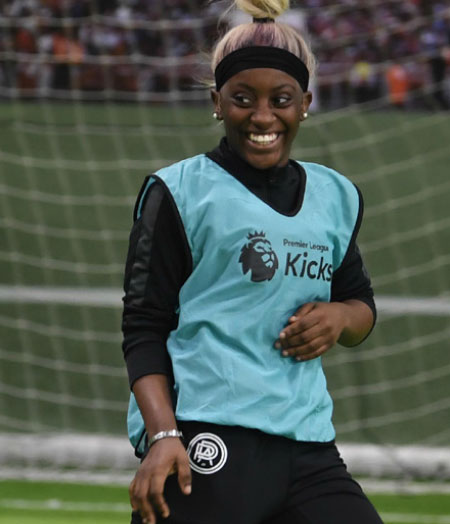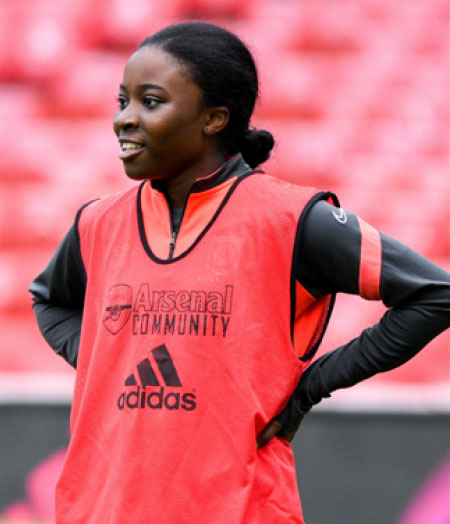 Q: How did you carry on during lockdown?
Pavlos: "We moved the programme to online workshops. We tried to focus more on wellbeing and activities that kept us connected with those girls for whom Arsenal is a bit of a lifeline, a safe haven."
Osiro: "Performance and wellbeing are very much interlinked. So, we look at the person as a whole and try to support them, not just in football, but in all areas of their life; at school, at home, with friends. So that was our focus during lockdown."
Jack: "It turned out to be a good relationship builder. Now we've got a foundation, and a partnership with our community organisations that's really quite strong."
Q: What does the programme look like now you can meet face to face again?
Jack: "The Girls Kicks team is a mix of experienced professionals, like Osiro, or Becks, our professional coach. Then we have one or two participants who have come through the programme as assistants and young leaders. It's a really nice dynamic, and makes for a really credible program, that's safe and well delivered."
Osiro: "There are structured sessions where we cover important topics, but then if someone's having a tough week, or even a good week, and they want to have a one-to-one chat with me, I'm there for them.
The structured sessions will cover 6 key themes that we believe every young person should receive training on. They are: Purposeful practice, Resilience, Mindfulness, Growth Mindset, Communication, and Awareness.
We'll look at how each of these relates to playing football, as well as to other aspects of their life, like being intentional and purposeful on the pitch but also when studying for school, how to be aware of your surroundings on the pitch, but also when staying safe as young women out walking down the street.
They're important skills that will hopefully help them flourish and thrive in whatever they choose to do. We're making sure that as young women, they feel supported, and that they have the tools they need to succeed.
Pavlos: "I think the beautiful thing about the programme is that the wellbeing element is weaved in so well. It's part of the football practice, but it builds on the girls' resilience and wellbeing in a really integrated way. Osiro is there, kicking a ball around with them, but also available to talk to them privately about anything that's bothering them."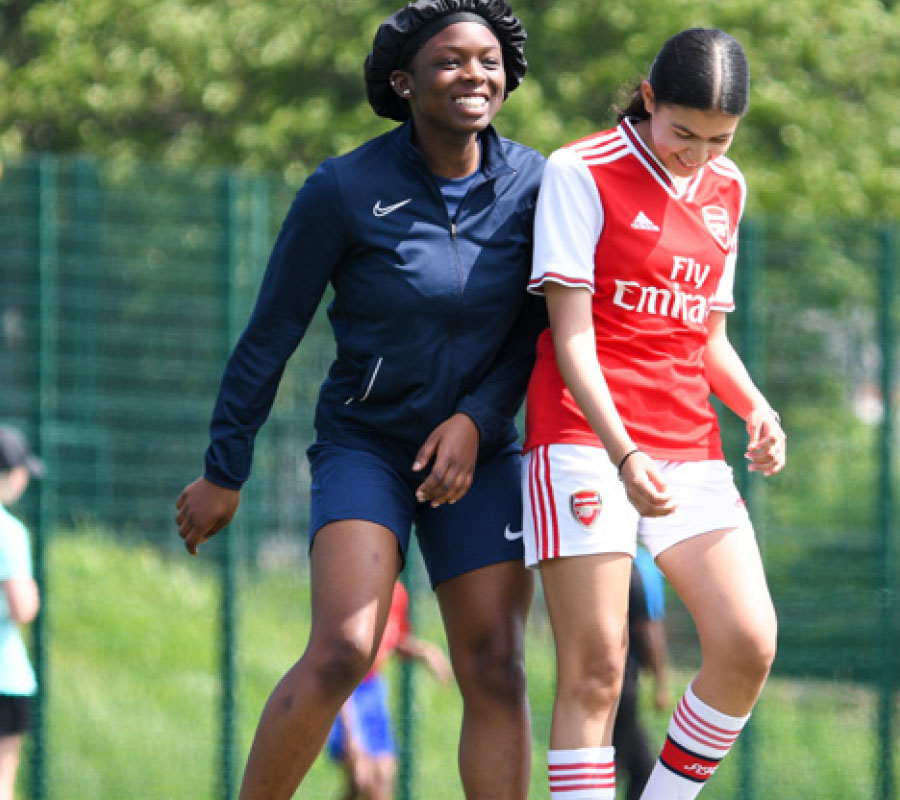 Q: What benefits have you seen so far?
Osiro: "It's absolutely invaluable. The girls are getting so much out of it. Even from the five-minute chat that I have with them before they play a game, you can see the immediate difference in their performance, because they're thinking about being purposeful, or giving feedback, or communicating.
It's also allowed the girls to be more open to talking about things that aren't going well in life, things that they want to work on. Some girls are very happy to ask for a chat, so I think there's a reduction in stigma as well.
This project is so special because it bridges the gap between wellbeing and performance. I think it's a very safe space for them. They're free to just be themselves.
Even the friendship groups that are being created are special, with girls from completely different walks of life becoming best friends."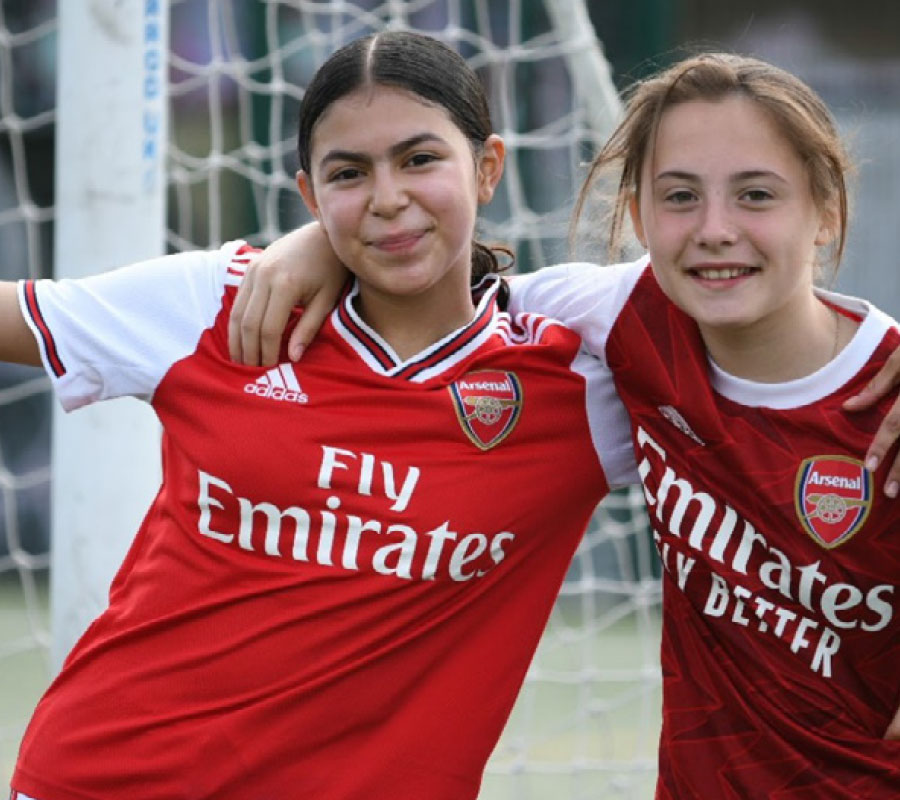 Q: What hopes do you have for the programme in the future?
Jack: "It's quite a long-term vision that we have for the Girls programme. Our existing programmes have a strong pathway that helps young people move from being a participant to being a volunteer and playing an active role in the community, to becoming a leader.
We want that for the Girls programme too. We're working on providing a pathway that gives the girls the same opportunities to develop careers in football or sport.
If it looks like a young person might have an interest in coaching, we ask if they want to come along to help out with the younger ones. That often gets the ball rolling, and more often than not, they really enjoy it. It's empowering and a confidence boost for them.
Then if they go on to become a coach, it sends a really positive message to the younger members and peers in the community, that 'if they can do it, I can do it'.
It's also important that we keep a sense of community. Under the London United banner, which brings together all the professional London clubs, we've purposely tried to build programmes so that, no matter where you live in London, there's that doorstep provision. And the idea is that you then develop a really strong sense of community for those girls.
We want it to be more about the person than the player. It's really the social outcomes that we're interested in."
When is the Girls Kicks Programme on?
Friday evenings and Saturday mornings at The Arsenal Hub and other locations (Covid dependent).
The programme is supported by funding from the Premier League Charitable Fund, The London Marathon Charitable Trust and Islington Giving.
For more information, contact: rjones@arsenal.co.uk at Arsenal
Other articles from the Brandon Bulletin…