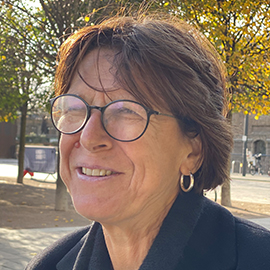 Lucy Moore
Clinical Trustee
Lucy's experience and knowledge are impressively diverse. Currently working at Public Health England, she's also enjoyed a handful of leadership roles in the NHS, a stint as a maths teacher and has a newfound passion for beekeeping.
What appealed to you about working with Brandon Centre?
"I live in the neighbourhood and have noticed Brandon Centre on my local walks. I thought the work being done looked really interesting, and like it was really making a difference to young people.
As an organisation it cuts above its weight, and has a history, profile and reach that's impressive."
After teaching 11–16-year-olds in a deprived area, Lucy found she wanted to help young people with their emotional wellbeing as well as their academic education. She now offers mentoring and support on a one-to-one basis.
What are you looking forward to in your role as Trustee?
"I'm particularly interested in helping Brandon Centre build and maintain its partnerships, in putting my governance and accountability skills to good use, and using my creative thinking to help win new contracts and funding."
Lucy's work is driven by a desire to get the most out of disadvantaged young people. She's not new to work as a Trustee, and is a member of the Board of the British Pregnancy Advisory Service, which supports women with their choices about when, and if, to have children.
What about life outside of work and volunteering?
"Not everyone knows that I've got four children that they are two sets of twins. The oldest pair share the same birthday as my husband, so that's a busy day for me!"
Trustee additional responsibilities:
Chair, Quality, Safety and Risk Committee Trustee
People Committee Trustee