Brandon Centre is 'Here For Young People'
If you are passionate in supporting young people, share our values and would like to get involved, please get in touch with us.
We are always keen to hear from talented, enthusiastic staff, honorariums, volunteers and people with lived experience. The highest standards and dedication of all our people is key to our success.
We believe that all young people should be able to access the highest quality care and support in a safe and welcoming environment.
Our Values:
Empowerment: We empower young people to live healthier, happier lives, by providing a space where they can access the support they need and work towards fulfilling their potential.
Collaboration: We believe that the best results are achieved when we work together. We partner with other agencies and regularly consult the young people we support, helping to ensure that their needs are at the heart of what we do.
Accessibility: We know that asking for help can be a barrier to young people accessing the support they need. We've designed our centre and our services to be welcoming, non judgemental and supportive to cater to young people's needs.
Quality: We build on over 50 years of expertise to ensure that young people receive the highest quality care and support.
Persistence: We never give up on a young person that needs our support.
Calling all budding photographic enthusiasts!
Hi!
At The Brandon Centre we are working towards creating a stronger online community and are currently building an Online Photo Gallery to showcase young people's work.
If you are between the ages of 16 and 25 and would like to contribute, please send us your photos on the theme of 'Multiple Worlds – My Life Online and Offline'. Anyone submitting an image will also be included in a £25 prize draw.
The deadline for the first round of submission is 1st December 2020.
Email address to send images to: photoproject@brandoncentre.org.uk
If you are a professional working with young people, we would appreciate it if you could spread the word about this initiative. Key information is presented below, with full details in the attached poster and available on our website:
https://brandon-centre.org.uk/get-involved

We look forward to seeing your photographic creations!
Many Thanks
Dominique Golden
Photo Gallery Lead
Key information:
Anyone aged 16 – 25 and residing in the UK may take part. 
You may submit up to 3 photographs.  
You may also include a description of your work in 10 words or fewer.  
Please send photos in a square format, otherwise they may need to be cropped before they can be presented online. 
Please do not use any images in which you can be identified.  
All entries will be checked for inappropriate content. 
This work is supported by a grant from BBC Children In Need.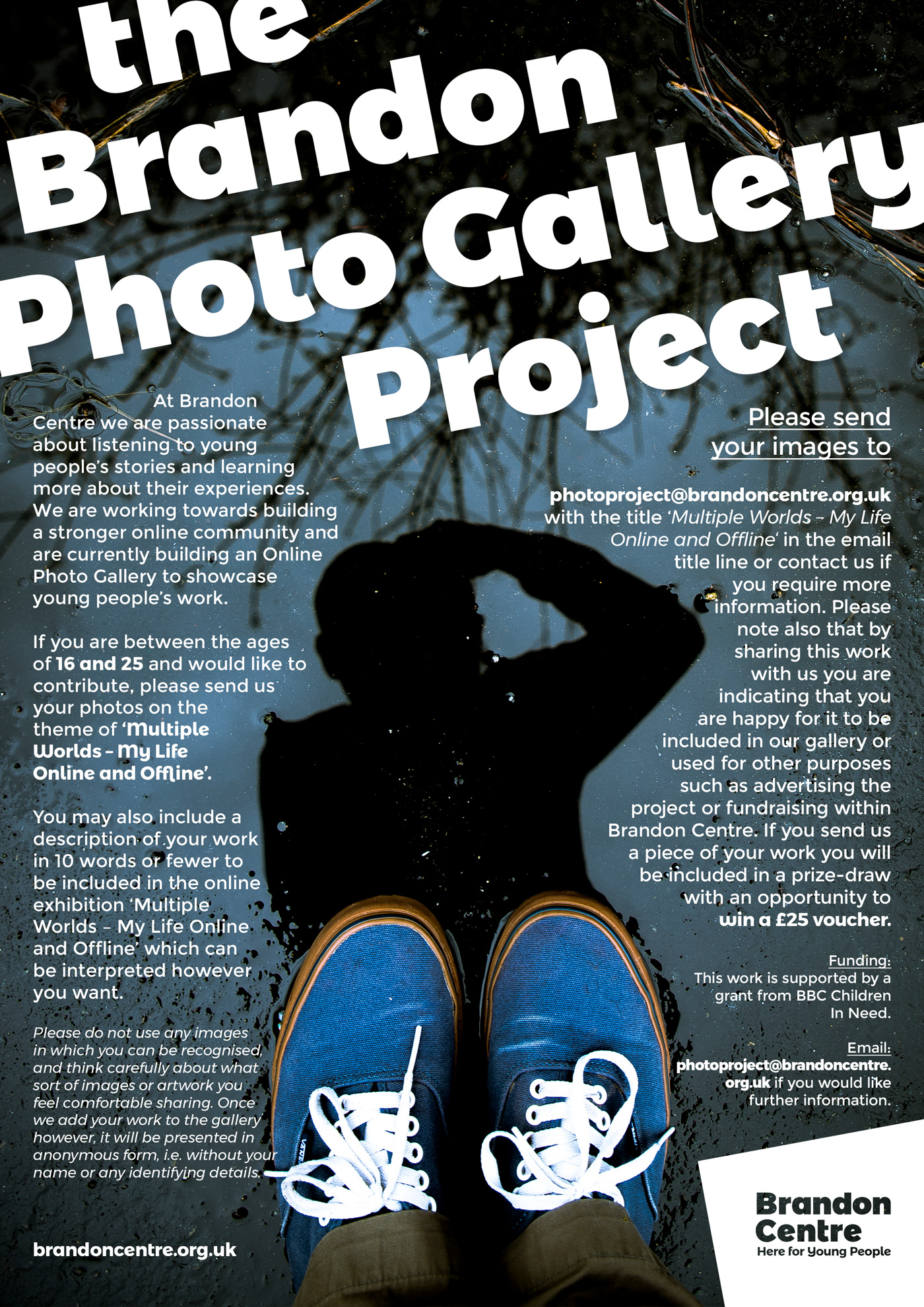 Brandon Centre, in collaboration with PatientSource – Case Study
In this study, Julia Brown, Brandon Centre's CEO outlines how we have moved from paper-based processes to digital, with the help of our technology partner, PatientSource, and transformed our mental health and sexual health services ahead of expanding our support across London and beyond.