Contraception & Sexual Health
You said…..we did!
We are delighted to share our lovely 'You said, we did' feedback from the CAMISH Annual Survey Feedback 2021. Enjoy the read!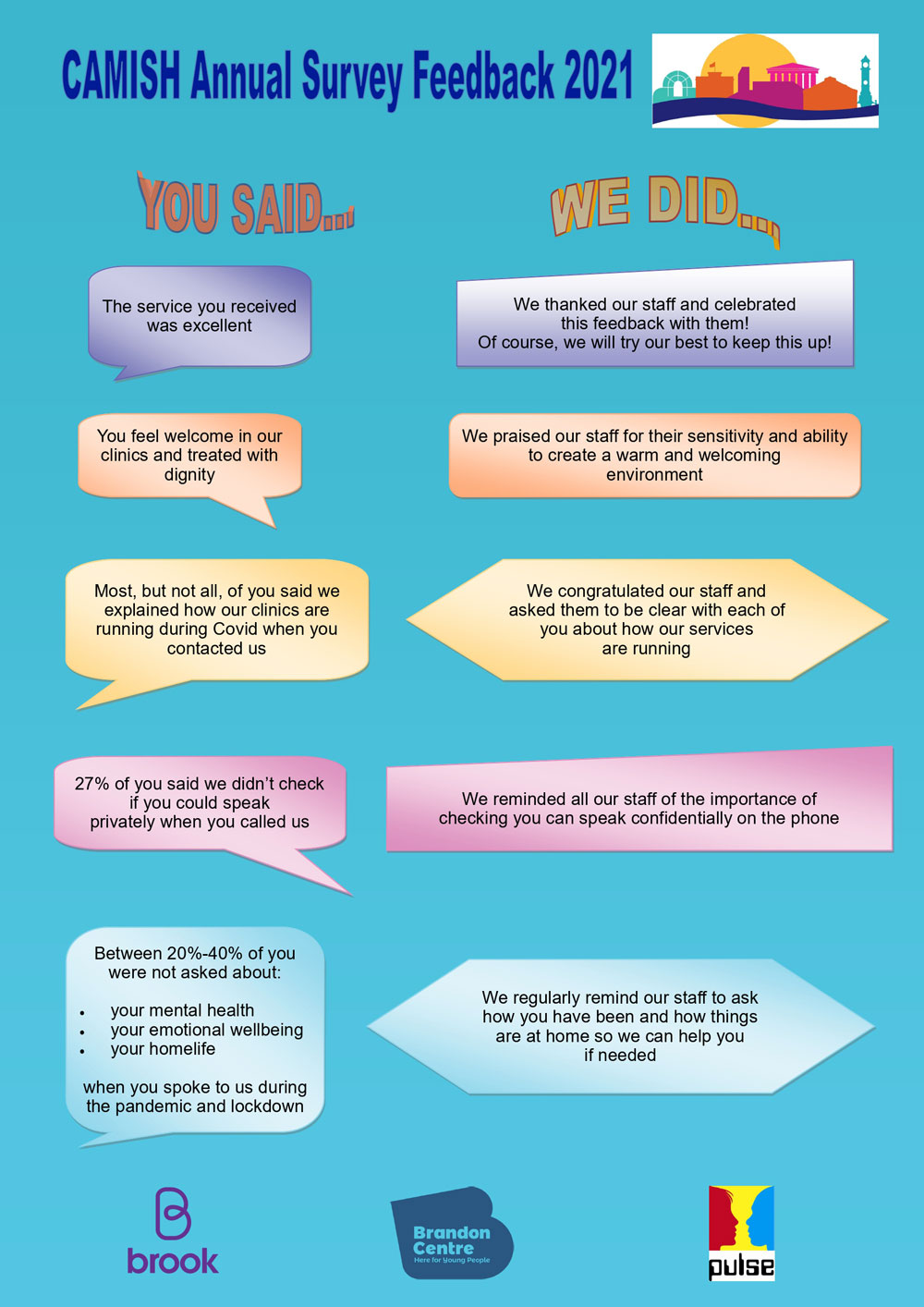 Contraception & Sexual Health (aged under 25)
Brandon Centre provides free and confidential contraception and sexual health services to young women and men aged under 25. Young people come to us to get advice and information about safe sex, pregnancy, sexually-transmitted infections and/or to discuss their sexual and emotional relationships. We are happy to see young people who have not yet started to have sex, who may still have worries and concerns.
We supply a wide range of contraception and can do tests and give treatment for common sexually transmitted infections. Our doctors and nurses have special training in sexual health and contraception. However, you do not always need to see a doctor or nurse – you can just call the Centre to pick up free condoms or to talk to our specialist team in reception.
If you are over 25 adult sexual health services are available at Margaret Pyke/Mortimer Market and the Archway Centre.
The CAMISH network confidentiality statement can be accessed here:  www.camish.co.uk/confidentiality
What we offer
Pregnancy testing, advice and referrals
Contraception (e.g. pills, patches, coils, ring and implants)
Check-ups and treatment for sexually transmitted infections (Chlamydia, Gonorrhoea, Trichomonas Vaginalis, Syphilis, HIV)
Signposting to other services
Counselling, mental health and wellbeing support
Vaccines for Hepatitis A & B.
Please see our information leaflet below.