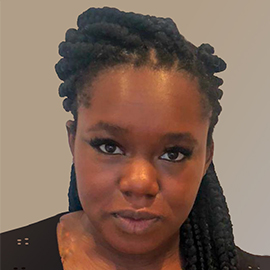 Temitope Ademosu
Clinical Trustee
With her background in Systemic Family Therapy and interest in global mental health, Temitope is a natural fit as Trustee.
She's currently Head of Children and Families Clinical Service for the London Borough of Hackney and lecturer in Systemic Therapy at Kings College London.
Her PhD in Global Mental Health has taken her to Sierra Leone, where she studied the effects of war and the Ebola pandemic on children's mental health.
What appealed to you about working with Brandon Centre?
"The fact that Brandon Centre offers a community-based service for young people, covering both mental and sexual health really interested me. Also, Brandon Centre was very open about wanting to welcome Trustees from diverse backgrounds to the Board and I was impressed by that.
My involvement in systemic therapy means I've followed Brandon Centre's work over the years, so I'm really excited to be able to support that work now."
Temitope's experience working with young adolescents abroad drives her interest in sharing knowledge and experience from different countries and cultures.
"I'd like to share what I've learnt in my international work, and help give more young people a voice in how the services are developed. I think the focus on work in the community is already there, but I'm looking forward to supporting that even more."
Trustee additional responsibilities:
Quality, Safety and Risk Committee Trustee
Designated Safeguarding Trustee Lead
People Committee Trustee